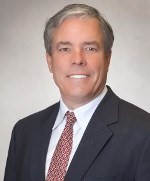 Education:
Saint Paul Medical Center
University of Pittsburgh Department of Orthopaedic Surgery
University of Texas Medical Branch at Galveston – MD 1985
John Peter Smith Health Network
American Medical Association
Texas Medical Association
Additional:
Specialties: Orthopedics, Joint Replacement
In practice since 1995, Age: 61 yrs old.
Languages spoken: Spanish and English
Address:
6301 Harris Parkway Suite 300
Ft. Worth, TX 76132
Board-Certified Orthopedic Surgeon
Fellowship-Trained in Adult Hip and Knee Reconstruction Surgery
Specialties: Arthritis and other Hip and Knee Conditions, Total Hip and Knee Replacement, Direct Anterior Hip Arthroplasty, Hip Arthroscopy
Theodore Crofford, M.D., is a board-certified orthopedic surgeon fellowship-trained in adult reconstructive surgery of the hip and knee. He holds a bachelor's degree in chemistry from Valparaiso University in Valparaiso, Ind. He received his medical degree from The University of Texas Medical Branch at Galveston before completing his internship and orthopedic residency training at John Peter Smith Hospital in Fort Worth.
Dr. Crofford went on to complete his fellowship training at the University of Pittsburg Medical Center in Pennsylvania in adult reconstructive surgery.
Dr. Crofford manages most problems of the hip and knee in adults. He particularly has extensive experience in hip arthroscopy and the direct anterior approach to hip replacement. He has been one of the early participants in the new technology of the robotic assisted hip and knee replacement. He is also an advocate of the quad sparing and "gap" balancing method of knee arthroplasty.
He has been a practicing orthopedic surgeon in North Texas since 1992 and joined Texas Hip and Knee Center in 2001.
Dr. Crofford is a member of the American Academy of Orthopaedic Surgeons, American Association of Hip & Knee Surgeons and Texas Orthopedic Association.
---