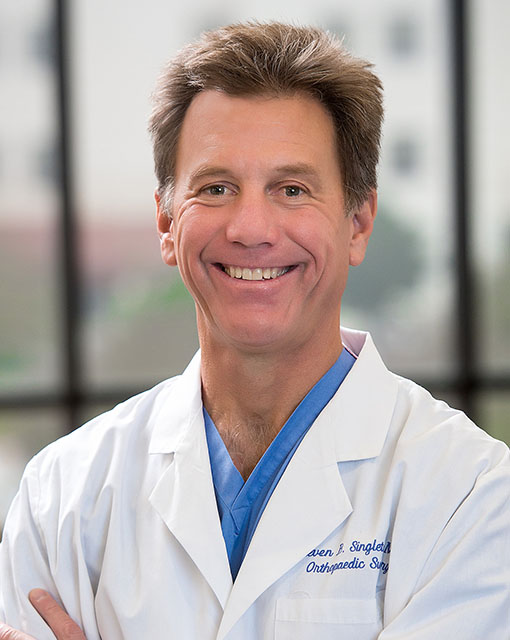 Education:
University of Texas Southwestern Medical School – MD 1991
University of Texas Southwestern Medical Center - ORTHO 1996
Steadman Philippon Research Institute 1997
Tarrant County Medical Society
Texas Medical Association
University of Texas Southwestern Medical School 1992
Additional:
Specialities: Sports Medicine, Orthopedics
In practice since 2000, Age: 55 yrs old.
Address:
600 South Main Street, 2nd Floor, Suite 2.200
Fort Worth, Texas 76104
Steven Singleton, M.D., brings more than two decades of experience in sports medicine and orthopedic surgery to Fort Worth Orthopedics. He spent years in association with the world-renowned Steadman Clinic in Vail, Colo., and received his fellowship training in sports medicine there. He was also a founding member of the Steadman Hawkins Clinic of the Carolinas sports medicine fellowship program.
Dr. Singleton is certified by the American Board of Orthopaedic Surgery and is a Liberty Fellow, Class of 2008, and member of the Aspen Institute Global Leadership Network.
During his career, Dr. Singleton has taught and done research with over 25 sports medicine doctors and surgeons from around the world. His range of athletic team physician coverage includes the Texas Rangers and Colorado Rockies professional baseball clubs, the United States Ski and Snowboard Association teams, and multiple universities such as The University of Texas at Arlington and USC Upstate. In addition, he has provided orthopedic consultation and surgery to U.S. Olympic organizations and their athletes as well as to several international football clubs and players.
Dr. Singleton has authored or co-authored nearly 50 articles and multi-media presentations in orthopedic research. His knowledge and research have earned him recognition by the American Society of Orthopaedic Sports Medicine in the areas of cartilage restoration and advances in the microfracture technique, and investigations into the deterioration of the hip joint in the baseball athlete.
His practice is focused on the non-operative and operative treatment of upper and lower extremity injuries and disorders. He is also known for his unique approaches to the treatment of scar tissue and arthrofibrosis, a condition of joint stiffness common around the knee and elbow. His special interests include the use of biologics preparations and scaffolds such as PRP, and bone marrow aspirate concentrate to augment the healing of degenerative or injured tissues.
Dr. Singleton is a member of the American Academy of Orthopaedic Surgeons, American Board of Orthopaedic Surgery and American Orthopaedic Society for Sports Medicine.
---